The completed dresser
We finally have the dresser done and sitting in the nursery. It came out really well!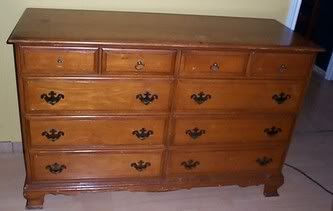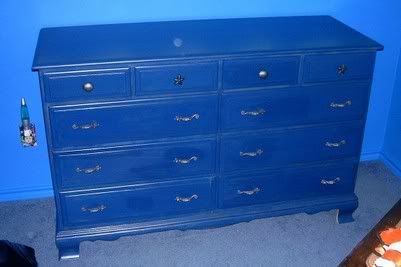 Not sure if you can see the hardware close-up but the top small drawers have shell and starfish pulls and the bottom longer drawers have seahorses. It's very fitting for a Finding Nemo nursery!
Today was a very busy day as I knew it would be...we slept in really late, and then went to eat some lunch and then shopping (again) at Lowe's, The Container Store and Target. We got all of our baseboards and moldings, our blinds for our kitchen and master bedroom windows, our breadbox (I finally found one I liked!), new address numbers for the back of the house so our painter can just take off the old ones, a curtain rod for the kitchen window and a simple black cotton valance for it.
Tonight we were rushing to get the kitchen done. I got a voice mail from the flooring people that they ARE coming in the morning to do the kitchen and utility room floors, so we have to be ready...and the kitchen is fully unpacked. I can't believe how much more space I have now that I have bigger cabinets and more of them. We added cabinetry above where the refrigerator will go, above our new microhood, and then of course, our pantry is gone and replaced with a floor to ceiling cabinet. It's amazing. I feel like I barely have anything. It was so much fun though playing with all my new toys and organizing everything. Everything looks really good in our kitchen. I'm SO glad we picked a monochrome theme! And I absolutely ADORE my new flatware and my new cutlery. I might have to set up a website just to show pictures of my new house and my new stuff!
That was all we got accomplished. Nothing on the table, nothing on the painting, nothing else. We're both tired. P got the prints framed for the kitchen so they are ready to go tomorrow.
The thing that would really make my day is if the window guy showed up with the windows to install them. Tuesday would still be okay, but tomorrow would be awesome.
I can't wait to see what my new flooring looks like. It's been so long since we picked it out, I almost have forgotten what it looks like! P can't remember either. All we can remember is that it looks like stones.
Funny pregnancy aside...when I was walking through Lowe's today, the baby started kicking me and I put my hands on my tummy to rub it. An employee stopped me to ask if I was in labor. Can you believe it? I just died laughing and said, "Boy, I sure hope not!" But the fact that she thought I was close to the end is kind of scary...do I look that big? To me, I look very pregnant...how can I possibly get bigger? Well, I guess skin stretches and bones break, eh?
Tune in tomorrow...