The BEST gift from my father-in-law
What a surprise this was. We loaded up all of our leftover garage sale crap yesterday in the two cars and drove out to my in-laws' house in south Dallas to drop it off since they are planning on having a big church sale in a week or two. As soon as we get there, my father-in-law, F, asked P if he would help him go move some furniture that one of his clients was donating to the sale. (F is a contractor.)
Next thing I know, P is calling me to tell me that they are going to be late because it is raining, but not to leave because they have two beautiful hardwood cherry desks and he wants to see if I want to buy one of them. Considering that my old desk was a very beat-up old particle board desk that I got from P's boss at work as a hand-me-down when I first started to work from home, I of course agreed to stay. It turned out to be several hours, which I filled by eating lunch, visiting with my sisters-in-law and mother-in-law and aunt-in-law (is that even a concept?) and just in general hanging out.
It was SO worth the wait, as you can see. Not only did I get THE most beautiful desk, but my FIL wouldn't think of me paying him for it since he got it for free as well. We stuck it in our Explorer and now it is my new workspace! It's finished. It has a very high-gloss finish. It has about twice more drawer space. And it is six feet long as opposed to five feet long. I LOVE IT! The other desk was the same length but it was twice as wide, and since I just really don't need that much space, I opted for this one. I LOVE IT! I LOVE IT! I LOVE IT!
In case you don't remember, this is my pitiful excuse for a desk that I had before, so you can see why I'm ecstatic about my new baby: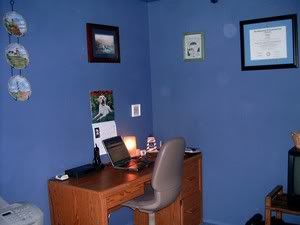 We looked at Lowe's tonight for new hardware, but the pulls are four inches apart and apparently they are non-standard, so I'm going to order some new ones on the internet when I get around to it. I'm not really in a rush since these look better than fine. I also sent an email to a glass company here about getting a glass furniture top for this desk since the finish fingerprints very easily. But it is really beautiful and I love it!
And...since I had quite a few requests, I got P to take a picture of my burgeoning Buddha belly. *sigh* I know I've got a baby in there, but it's hard to see my body getting bigger and bigger. And note to self...never, ever, ever, enter the dressing room at Target again while pregnant.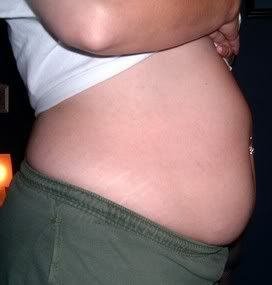 Sadly, we did not work on the baby's dresser as planned today. Our original plan when we got up this morning was to come back around 2 or 3 after visiting with my inlaws and get busy on the dresser, but we didn't leave their house until 6 and then by the time we drove back up north to our part of town, stopped for dinner, and then stopped at Lowe's and got the desk unloaded and moved into the office, it was 9:30 pm and we were both way too tired to work on the dresser.
But tomorrow is another day. For now, I'm just psyched beyond belief about my new piece of furniture!!! And it was FREE!
I do have to admit though, we are really getting into the furniture refinishing routine since we seem to have it sort of down now. I think after the dresser is done, we are going to move the dining room table out into the garage and start on it. We were discussing buying a whole new set now that our chairs were sold with the nook table, but we really love our table, and if we can sand out the cat claw marks from Taylor in the legs, I think we're going to stain it a nice dark brown and get some nude chairs to stain to match. And then there's the bookcase, which I would like to get stained for the baby's room.
We're also discussing sanding down our dressers and nightstands in our bedroom and painting them with black enamel. I don't think either one of us has the energy to sand those babies down, and they will take forever since the finish is a super-high gloss. I think we'll be happy if we just sand off the top finish enough to allow paint to adhere, paint them black, and replace the hardware. I know I sure will be.
The contractors are supposed to come tomorrow, and quite honestly, I'm not optimistic even though L promised that they would be done by the end of the week. I just have this feeling that I'm going to be disappointed if I cling to that hope. P even agreed with me that he has a feeling we'll be calling the flooring installers around Thursday to reschedule. I guess we'll see. Keep your fingers crossed for us. I'm DYING without a kitchen.