Think outside the jar
I read that on Amazon. I love that. Anyone have any idea what I'm talking about? Welp, McKenna is going to be six months old in JUST a few short weeks (I know, can you believe it?) and with her six-month-birthday comes a whole new beginning...starting her on baby food.
Personally, I can't wait. Don't get me wrong, I LOVE nursing this kid, and I'm actually considering doing extended nursing during the next year as long as she wants to do it, but I can't wait to start cooking for her and I really can't wait to escape my breast pump, also known as EEYORE due to the donkey-like resemblance in sound.
So tonight I ordered three books from Amazon...Super Baby Food, Blender Baby Food, and Simply Natural Baby Food. I really really really wanted to start her on baby food this weekend with the Easter holiday, but her pediatrician convinced me to wait a few more weeks. So I will. Two weeks and five days to be exact.
Why I'm excited, I don't quite know or understand. Her poops are going to smell God-awful. I'm going to go through bibs at the speed of light. Mealtime now will take a LOT more work than just getting comfy on the couch and turning on a DVRed episode of Law and Order while I fight to stay awake. We are going to have to buy a little deep freezer since we have no room left in our freezers thanks to the breast milk taking up two shelves. Katie and Simon are going to become McKenna's best friends once they figure out that she drops things that taste good.
But I AM excited!
I had a request in my blog for a recent picture of the princess, so how can I not oblige? Here's my baby in her beautiful Easter dress...thank you, Grandma!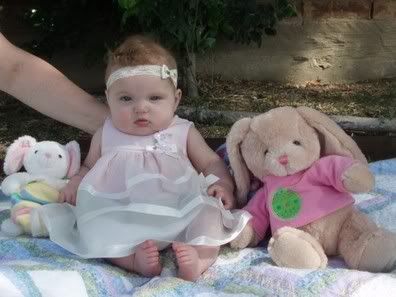 Hope everyone had a fantastic Easter!