I love the gym on a holiday weekend!
It's quiet! It's free of ogling guys staring and rude women hogging the lighter weights. It's free of smarmy creeps making fun of my notebook or asking if they can help me rack my weights. And best yet, I don't have to wrestle anyone for the machines! There is ONE machine in particular that seems to be the most popular. This machine doubles for chest flys and rear delt presses. I LOVE IT. And I never get to use it during the week in peace. If I could ask for one thing from my gym, it would be that they purchase another one of these machines. Please!
Not much planned for today...I decided to put work off until Monday and actually enjoy my weekend. I think we're going to go run a few errands, including a floss run to Hobby Lobby, Kinko's for working copies, and probably Best Buy and somewhere to eat dinner. Exciting night. Then back here to watch some movies. I'm feeling that tug to start a new project, so....
Just two memes today...I need to hop in the shower! I'm sitting here all sweaty and gross from the gym! Another bonus for going on a holiday weekend...no one to see how icky you look.
Weekend Wonderings
...
1. If given a choice, which century would you live in? I kinda like this century, but if I had to pick another one, I'd like to live in the South in the late 1800s before the Civil War. I'm not saying of course that I would have condoned slavery, but I thought the whole world of plantations and big dresses and beaus and the Southern way was kind of magical. I think there's something about every time period in history that looking back we don't like...that's why we've learned from it and moved on.
2. If you could make time stand still for everyone else in the world except you, what would you do? I have no idea! Probably tour the world and see all the places that I've always wanted to see.
3. If you were given magical powers for one hour, how would you change the world? I would take away AIDS and cancer, I would erase the events of 9/11, and I would somehow eradicate the problem of unwanted dogs and cats in this country. Not sure how I would accomplish that last one, but hey, since we're talking hypothetical here anyway...
And...the
Daily Dirt
!
1. Do you have any piercings? I have several. I have four holes in each of my ears and my cartilage at the top of my right ear is pierced. I also have my navel pierced.
2. Tattoos? Four.
3. If you have a tattoo what is it of, or if you could get one, what would it be of? I got a small blue flower tattooed on my left hip when I was nineteen, and a few months ago, I had it covered up with a custom-drawn pink lily and turquoise and purple butterfly. It was very distorted from all my weight loss and all the stretch marks, and I like what I have on there now much better. I also have a small turquoise blue dolphin on the inside of my left ankle and a silhouette of a black cat (ha, can't imagine why!) on my left rear shoulder blade. Here's a picture of my newest tattoo after I got it done and before it had healed. I absolutely love it, even though P teases me that it looks like a tattoo that should be on a stripper.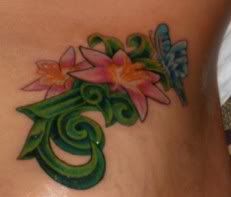 4. Where would you NEVER get pierced? Anything I was willing to have pierced has already been pierced, so the answer to that question is...everything else.
5. Any piercing gone wrong stories? Nope. All my piercings went fine and I was very very conscientious to take care of my navel piercing well and keep it clean so that it didn't get infected or reject the piercing. And I'm so glad I did. I haven't had a bit of problems with it! One of my guilty pleasures is changing the jewelry every day to match what I'm wearing. I know no one sees it but me, and that's just fine with me.
That's all I've got. Happy Saturday to all! Enjoy your long weekend!