Greetings from Orlando, Florida
Turns out I left just in the nick of time. According to my dearest hubby, the weather now in Dallas is freezing cold and we had horrible storms last night. Meanwhile, the weather down here is gorgeous. It was 84 today and I wore shorts and a t-shirt to Epcot, which is where I spent the day with my dad and my stepmom. It was a great day. I've been there like eight or nine times, but it's always fun every time I go. And this time we had lunch in Canada, dinner in Morocco and dessert in France. I love that…I think the World Showcase is my favorite part of Epcot. If you ever have the chance to go and you have not been, GO. It is definitely an experience. Expensive as hell, but definitely an experience.

I didn't take any pictures at all during the day except for one tonight at dinner…we had dinner at Restaurant Marrakesh (Morocco) and they had a belly dancer! Very cool. I immediately thought of my friend D who belly dances, so this picture is posted just for her!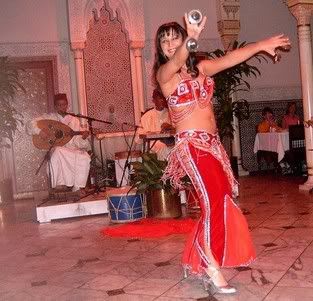 I also did a fair amount of shopping. Let me tell you, it's tough shopping for a child when you don't know what sex you're having, but it can be done, and when I DO find out what sex I'm having, either way, it's all over. I'm going to be a baby clothes and toy JUNKIE. This is what I bought:

-stuffed giraffe that plays "A Dream is a Wish Your Heart Makes" (the head moves)
-matching stuffed Nemo and Dory from Finding Nemo (to go along with my ocean themed nursery
-a heather gray hooded sweatshirt with Mickey the Sorcerer on the front and a Magic Kingdom scene on the back (Thanks, Grandpa, for buying the jacket and Dory!)
-a super soft teddy bear with a t-shirt that says "My First Disney Bear" courtesy of my stepmom S

For me, of course, I also bought some things…a pair of crystal heart earrings…a pair of sterling silver moon earrings…and a t-shirt for P. I did duck into a maternity store while I was at the mall yesterday, but shopping for clothes for me right now just isn't even a shred of as much fun as shopping for clothes for my child, who by the way, is as big as a walnut according to Baby Center. S (stepmother) tried to talk me into putting one of those pregnant pillows in my shirt so I can get an idea of what I'm going to look like, but I'm just not ready to face that much reality just yet. Right now, I'm just coping with the fact that I couldn't wear the halter tops that I brought with me to Florida because my porn boobs have turned into super duper porn boobs! Ah, well. Thank goodness I overpacked as usual.

So let's see…tomorrow, I am deviling 48 eggs to take over to my aunt's house for Thanksgiving dinner, and then after we stuff ourselves beyond oblivion, we are going to see a movie as per tradition in my father's family. I personally am rooting for National Treasure, as I would really like to see that, but we'll see. I'm sure I'll be outnumbered as usual and will wind up seeing something really dumb that I don't want to see. At least the good thing about not seeing movies that often in the theater is that there is no danger of me already seeing it! Friday morning I have my grandmother's 80th birthday brunch and then I am leaving to drive to Gainesville to see a very old and dear friend of mine that I haven't seen in five years. Then, Saturday, I return home to dreary Dallas…home sweet home.

Pregnancy-wise, I'm actually feeling pretty good. This has been a good week. I needed my saltines for a brief moment yesterday after the plane landed. And I fell asleep almost immediately last night after my family started a slideshow and today in one of the shows at Epcot. It was kind of embarrassing. I also got extremely nauseous last night after eating my grandmother's dinner that she made…some ingredient in her homemade Italian dressing triggered it and I actually thought I was going to toss my cookies for real. Otherwise, I'm just chugging along. I'm curious as to how the tryptophan in the turkey is going to affect me once combined with the pregnancy fatigue. My guess is it'll be lights out pretty darn quick.

To celebrate Thanksgiving, I'm just going to do my own meme, Sunday Brunch, which there are two of…Thanksgiving and flying by air, both of which have relevance for me this week.

1) How do you cook your turkey? (Stuffing, spices, cooking bag, etcetera) I usually brush the entire bird with plain salted butter, rub in regular poultry seasoning, and bake it in a cooking bag. Cooking bags rock…it makes clean up SO much easier!
2) What is your favorite Thanksgiving dessert? Apple pie, no question, but I DID manage to cajole my grandmother into making the one dessert I am unable to make on my own for tomorrow…and that is German chocolate cake.
3) What are you doing this year for Thanksgiving? Dinner at my aunt's house (18 people) and then a movie afterwards.
4) Do you have any family traditions at Thanksgiving? When it is just P and I, we go to his parents' house every year for Thanksgiving and I always take an apple pie and one other pie, either pumpkin or pecan. My father's family's tradition is to eat, go see a movie, and then come back and eat again.
5) What one dish does it just not feel like Thanksgiving without besides turkey? Mashed potatoes!

1) Do you enjoy flying by air? In a word? No. It's definitely a necessary evil.
2) Do you typically check a bag when you fly or carry on? I check a bag if it's anything more than an overnight stay. I used to try to cram everything I needed into one bag and just make it work, but I stopped doing that about a year ago. I don't see what the point is. You are PAYING for the right to check a bag. Why not and then know that you have everything you need with you and plenty of clothes??? Besides, I never go anywhere without my laptop, and since I have to carry that on, my clothes get to travel below.
3) Has an airline ever lost your bag? Describe what happened and if you were compensated by the airline. Yes. When I flew to Grand Rapids, Michigan, a few years ago, the airline lost my bag, only they told me that they wouldn't be able to deliver it until the next day…my first day of my training class. After cussing for about ten minutes, I headed to Target and bought a new outfit and ALL new toiletries, since as per the last answer, I had carried on my laptop and checked everything else. Lesson I learned…NEVER ever check your toiletries. It is way more expensive to replace your toiletries than it is to buy a spare outfit, as I found out. And, as circumstance would have it, the airline delivered my bag about an hour after I got back from Target. Fortunately, Target took everything back, but it was SUCH a hassle. Ever since, I have carried on my toiletry bag just in case the airline loses my bag again.
4) Do you eat the airline food? The last few times I have flown, the airlines have not provided a meal. Times are getting tight for the airlines, that's for sure. I guess fuel costs are too high. Yesterday's flight provided two biscotti cookies, and I ate those.
5) What do you do to pass the time when you fly? It really depends. Usually I just read or sleep. I have stitched before on a plane, but it's a pain not using scissors and I've gotten the eye from a few flight attendants, so lately I've just packed my stitching gear in my bag to be checked and brought a book on board. It's enough of a pain having to open my laptop, take off my jacket and shoes, and unzip all my bags for visual inspection without having to explain what my needles are for.

Well, I guess that's all I've got for today. I'm going to check a few more things, return a few more emails and hit the sack! I'm suddenly painfully aware that I walked around a theme park for about eight hours today!

Good night to you all and happy Thanksgiving to you if you are an American! Everyone else not American, have a great rest of the week!