The most fabulous baby shower ever
Wow. If you had told me 48 hours ago that my baby shower would have been that fabulous and THAT special, I never would have believed you! Amazing how my friends really pulled together and gave me a great afternoon. I really thought the bridal showers that I had before my wedding were amazing, but this...well, this was really something special.
Yesterday was a whirlwind day. It started with S and I waking up at the crack of dawn to make 2 dozen (that's 48 halves) deviled eggs...then we ran out and started our shopping marathon. Since I'm due in like, five weeks, and S is adopting a baby from China next summer, we were totally up for massive baby shopping and I've been saving up since July for this weekend. We hit up all the great secondhand stores in the area...Once Upon a Child and Children's Orchard before the shower, and then Rockabye Bay and Target after the shower (since S was quite appalled that I didn't own ONE diaper or any bath or laundry supplies). In between shopping was THE SHOWER.
It was truly amazing, and I haven't quite grasped the concept yet of how much I have gotten yet. S, P and I spent a good hour taking everything out of bags and sorting it into piles on our dining room table. I added all the stuff that I bought too, but at the end of the day, it was QUITE overwhelming. Check it out: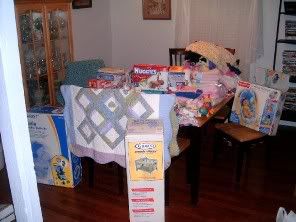 The most amazing thing was the CLOTHES! Look at the pile! This is in ADDITION to all the stuff I already have. This is going to be one well-dressed kiddo, that's for sure: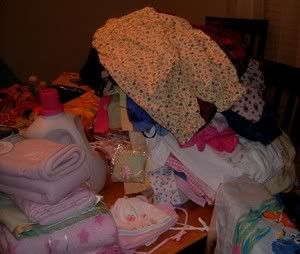 And the toys and other stuff were incredible!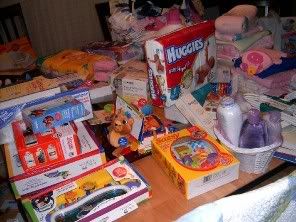 I don't have enough room to photograph every gift, but I shot just a few pictures of the ones that really were amazing...
A quilt handmade by my mother: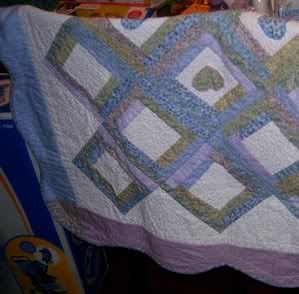 An afghan knitted by a good friend: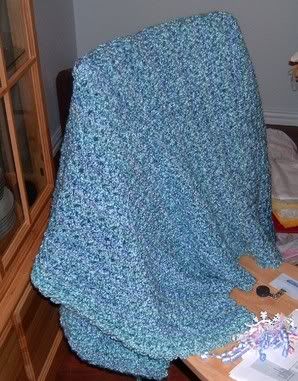 A mirror that was found at an antique mall: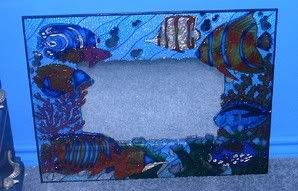 A Finding Nemo birth announcement...all we need is the birthdate and name!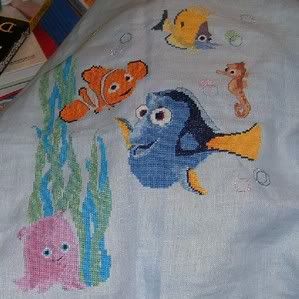 A special "oceanic" cake: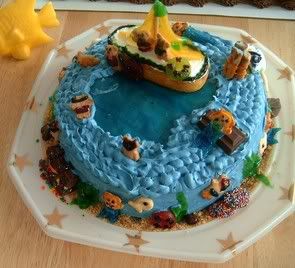 And then the really great yummy cake provided by the hostess: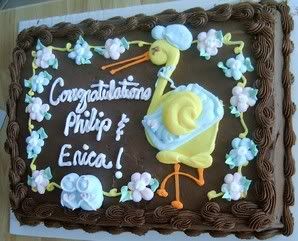 The group of us huddled around the chow table...my spinach dip was a hit!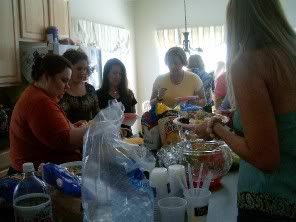 The girls were playing a game...to guess how many squares of toilet paper fit around my waist. Anyone brave enough to take a guess on how many that wasn't there? Post your guess and I'll post the answer in my next blog: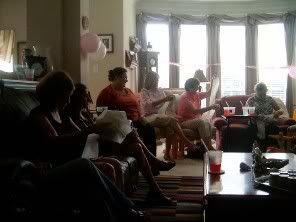 Some shots of me opening presents with the BEST shower buddy and friend a girl can have...not only did this girl finish the deviled eggs yesterday so I could shower, but she helped me load the car and unload the car TWICE, wrote down my list of gifts so I can write my thank you notes, and helped me sort everything into piles yesterday. Thank you from the bottom of my heart, S! I can't wait to be there at YOUR shower to help you celebrate your daughter...and I WILL be there by hook or by crook!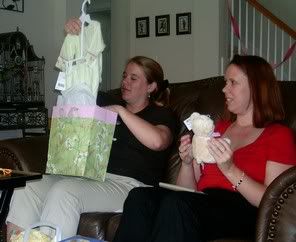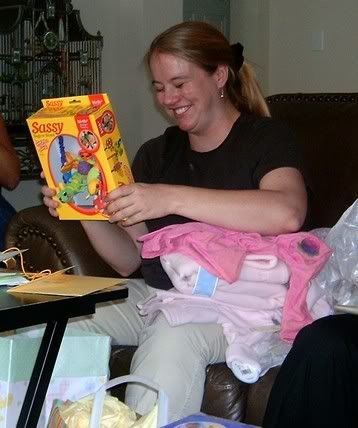 '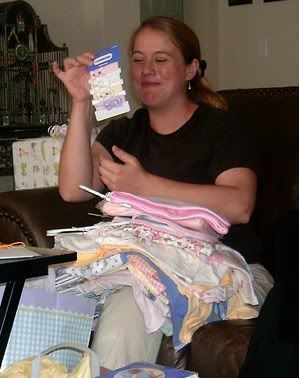 P was breathing down my neck to get me to finish this entry so I can get ready to go with him to my father-in-law's house for dinner, so I have to cut this short, but I wanted to post these pictures before I left and also say a big fat THANK YOU to everyone out there that came to the shower, assisted with the shower, encouraged me this week and gave good feedback and advice, sent a gift, whatever. Anything that you have done to help me celebrate the birth of my first child has been very special to me and I thank you!