Goodbye forever, Gabrielle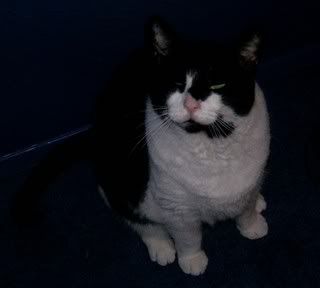 Today is a very sad day for me. Today I said goodbye forever to my dear sweet cat, Gabrielle, who I have had the pleasure of having in my life for thirteen wonderful years.
Last night around 11 pm, I went into the office to check on her like I always do and I found her laying on her side on the floor breathing very heavily and looking very sick. I picked her up, took her out to the kitchen, and she flopped over on her side like she just didn't have the energy to go on. I decided to take her to the emergency vet, and they put her on oxygen and basically got her through the night. When I took her to my permanent vet, she confirmed what the emergency vet had told me...that Gabrielle was having some sort of heart failure related to her heart murmur that was discovered ten years ago and that we could run all kinds of tests, an EKG, an ultrasound, chest x-rays, but that ultimately what would end up happening (best case scenario) is that she would be on medication for the rest of her life, be relegated to constant vet visits to monitor her progress, and would risk every day having a heart attack or stopping breathing. Worst of all, the vet said that all of this would be horribly expensive and traumatic, and that she couldn't guarantee us six months or even six days.
Considering her age and the quality of life issue at stake, we decided to do the best thing for her and let her go. It was the hardest decision I've ever had to make and I have never cried so much as I have today. The vet made me feel a little better about my decision when she told me that after Gabby fell asleep when they started the procedure, blood and other fluids started flowing from her mouth, confirming that she had severe pulmonary edema and that this was an irreversible process. Despite that, she died very peacefully. Her body is going to be cremated and her ashes distributed at a local pet cemetary.
Gabby, I will love you forever. I will never forget all the times I drove from Chapel Hill to Winston-Salem with you curled up on my lap. You were my buddy from my first apartment in Chapel Hill (from which I was evicted because I refused to give you up or find another home for you) and you moved with me to eight places after that. You drove with me from North Carolina to Texas. Even though the doctors told me when you were three that you wouldn't live past the age of six due to your heart murmur, you hung in there year after year after year without complaint. You kept me company and comforted me through many broken hearts, my parents' divorce, my miscarriage, and were there on the bed every day with me when I was put on bedrest. Many, many days were spent with you curled up behind my laptop purring. You were sweet to my daughter and showed such patience with every new person I brought into your house starting with the other two cats who to the day you died you merely tolerated, my husband who only took up your space in the bed, the big dumb Labs that chased you around the house, and finally, my daughter who took up so much of my time that I hardly had time for you the last year of your life. Despite that, you always had a meow, a purr and a hug for me when I wanted one, and even at the last moment at which I had to say goodbye to you, you showed affection towards me by rubbing my hands with your head as if to say thank you for letting you finally have peace and make your final journey to the rainbow bridge.
In response, I say thank you for taking care of me and I hope that you will always find a warm bed to lie on in the sun in heaven.