My first finish of 2005!
As promised, here is my first 2005 finish! This is Friends, by Terrence Nolan of Dimples Design, and even though it is gorgeous, it is the worst leaflet I have ever stitched from! This took 22.5 hours and is stitched on 32 ct. distressed vintage linen. I started it in 2001.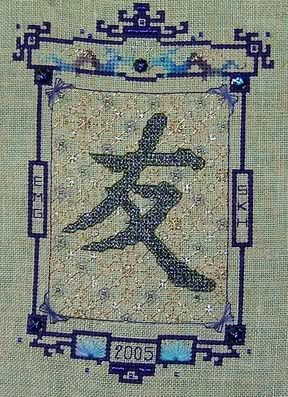 Very sparkly and pretty after I added all the beads and things. SKH stands for the initials of my bestest friend, S, whom I'm going to have the pleasure of visiting weekend after next!
Note: I stitched this for my house in honor of my friendship with S. I needed to clarify that!
I'm not sure yet what I'm going to put in its place in my rotation, but it'll be one of my small projects from my hatbox. And I stand corrected...I finished two projects in 2004! Crystal Heart by Nan Caldera and a wizard bookmark by Cross My Heart.

I'll get this put up on my website as soon as Verizon decides to cooperate! Grrr.