Houston, we have a heartbeat!
I woke up this morning with the worst case of butterflies. I was SO sure they were going to show me an empty sac again.
But no. I got to see my baby for the very first time! In the picture below, it's the seahorse shape on the left hand side. The round shape in the top center is the yolk sac.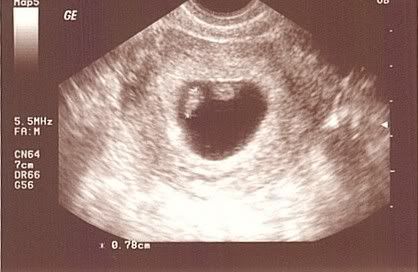 And...we have a heartbeat. A nice strong one. P and I were both overcome with emotion. I started to cry as soon as I saw that the heart was beating. P just couldn't do anything but stare at it with a lump in his throat. Quite a moment!
I can't believe we're actually going to be parents!
Anyway, the ultrasound tech told us that everything looks great, the heart rate is about 150 beats per minute, and that the fetus is measuring .78 centimeters right now, which is right on target for where he or she should be.
P is now very excited. I think seeing that today really brought it all home for him. He spent quite a bit of time today researching name possibilities and everything online.
As for me, I feel about 100% better. The tech told us that my chances of miscarrying again just dropped from 25% to 3%, so I was relieved about that as well.
So! I stitched on Noah's Submarine tonight as planned. It's time to get stuff finished for my nursery!