Our new dishwasher
Finally, one week to the day we bought it, our new dishwasher is installed and quietly humming away washing our first load of dishes! Yay!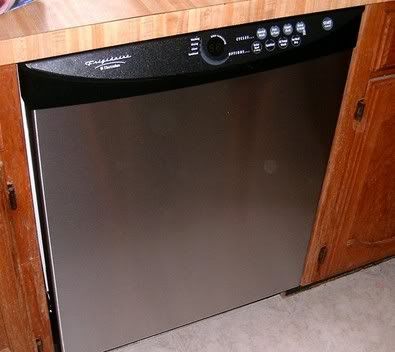 Now, on to the next home task...our new 8' cedar fence, which we are still patiently waiting for an estimate on.
Yesterday, our Profit Sharing Day, was a GREAT day. We got great bonuses, but I was hit with yet another surprise. Every year, they name the employee in the entire state and the runner up who is the best in customer service. The first place winner is in another office, but I got the prize for runner up! WOW! I never imagined when I woke up yesterday that I'd be accepting an award in front of every employee in five offices! My only sadness was that Queenie wasn't there to see it, but since they announce it at every Profit Sharing meeting in the state, I'm sure she got to hear it at her meeting in Austin. Anyway, it was really cool. When they started talking about the award and who they were awarding it to, my friends sitting around me were like, "It's you! It's you!" and I was saying, "Oh, no, surely it's not me out of all these hundreds of employees!" But sure enough, my manager called my name and told me to come up there. It was crazy. I got another neat award to display on my desk and everyone in my office came by to congratulate me. It was so cool! In a lot of ways, that award meant more to me than the bonus, although the award won't be buying my fence, so there is that. Anyway, it was quite a day. I couldn't stop smiling after I won it. It made my not winning anything in the raffle and being defeated at Jeopardy pale in comparison.
What was also kind of cool was that the manager that hired me was working the projector for the video presentations up at the front and when I walked by after accepting the award, he kind of gave me this little wink as if to say, "See, I was glad I took a chance on you!"
So, wow. Second in the STATE of Texas for customer service. What an achievement! Too bad I can't show that award to that turkey that threw me out of his house back in December.
After the Profit Sharing meeting, I went out with two coworkers to get something to eat and hang out, and then I came home and showered (again) to go out to a dinner party for my sister-in-law at this Mexican restaurant in Addison, Gloria's, that hosts salsa dancing after hours. I guess yesterday was a longer day than I had thought, because I really was not hungry for anything, picked at my dinner, and by 10 pm, I was begging my other SIL, S, to take me home early so P could stay and enjoy the band. Thirty minutes after I was home, it was lights out. I was exhausted!
Today is a nice rainy day in Dallas, and a perfect day to stay home, although I think we will be heading out to run some errands. I really need some new jeans at Old Navy since I busted those other ones last weekend.
Hope everyone enjoys their Easter weekend!