The Blue Kiss
Being that I have achieved maximum stash expectancy on my cross stitch patterns long ago, I don't really get that excited about new patterns that come out. I look at them and I'll be like, "Hey, that's pretty" but I don't really get jazzed up about them. I just think, "Well, maybe someday!" My favorite designers are just designing way too fast. What is a girl to do? I am in the process though of making a shopping list for when I go to Tulsa with my friend T in April...there are several things that I want to pick up and since there is no local shop now near me really, it's a perfect opportunity to pick up the stuff that I need.

My rotation is enormous. I had kind of told myself that when I finished new projects, I would add in small pieces from my hatbox where I keep miscellaneous projects until I had that box emptied out, and then I would start some new stuff.

That all changed when I saw this on the internet this week: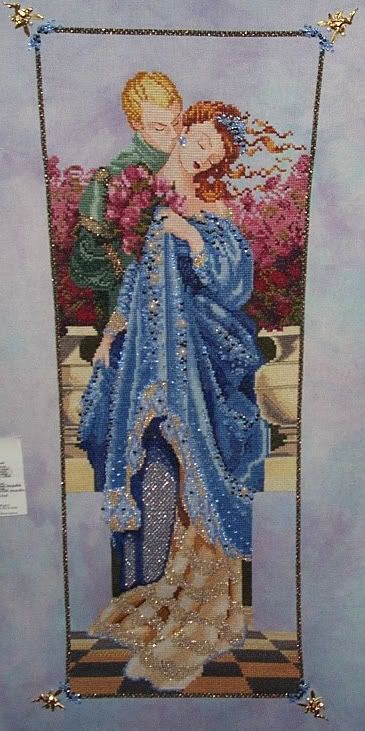 That is actually an older Mirabilia pattern called "The Kiss" and while I've had it in my stash for quite a few years, I never really thought seriously about doing it until I saw this blue conversion done by a very talented lady,
Jenna
, on the Mirabilia bulletin board. But how LOVERLY it is!

So, yesterday I bought the floss for this. Today I'm going to do a light check of my own stash and make sure that I don't have anything that is perfect (although I don't think that I do) and then order a fat quarter from Silkweavers. I was going to use 28 ct fabric to make it little easier with the beads, but on 28 ct, the design size goes about an inch over a fat quarter, which is a $20 difference with those hand-dyed lovelies, so 32 ct it is. Not sure which color I'm going to use yet, but I have it narrowed down to Charizma or Blue Dynasty.
Here's the page if you want to voice your opinion
...but I need to order it tonight so I have it soon. I only have seven projects left in my rotation before it's time to start over! And I can't wait! It'll be awesome to touch all those new projects again and put another block on each one of them.

In other non-stitching related news, I was a very bad girl last night and took a pregnancy test. (Sharon, resist the urge to throttle me please.) I stopped last night at the store to pick up something and found myself walking towards the family planning aisle like a moth drawn to a flame. I had every intention of just putting them away for later in the week, but oh, no, as soon I got home, I ripped one open. And of course, it was negative. I'm a dummy. Duh, implantation occurs at eight days, and I'm nine days today. But at least I got it out of my system. I have two left, and my plan is to take the second one next Saturday morning if my period doesn't show up as it should show up this week.

So, not much in the works for today. I am going to walk the dogs, get some laundry started, put in my three hours of overtime that I have coming to me today and try valiantly to get one of the huge estimates I have pending done and emailed to my boss, and then I'll probably stitch for the rest of the day. We rented the new Exorcist movie to watch tonight, so that should be entertaining.