Is this me or what?
I took this test today,
What Kind of Girl Are You?
Apparently I'm this kind of girl: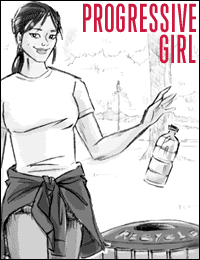 Click
here
to read all about Progressive Girl!
Anyone who knows me in real life can probably attest to that being me to a T. I usually wear jeans and a T-shirt, I walk my dogs a lot, and I am always drinking something and looking for a trashcan to throw away the bottle.
I don't have much to report at the moment other than my new book on Taking Charge of Your Fertility is amazingly riveting, my new 250 ct sheets were a dream to sleep on, and my 25 loads of laundry are waiting. Patiently. We watched Saved last night...pretty cute, although scarily reminiscent of the crazy Southern Baptist kids I went to high school with.
Memes...
Sunday Brunch
first!
1) What is your favorite Disney movie and why? I absolutely adore Mary Poppins. I don't know what it is about that movie...there's just so much color and life to that movie. And the music is incredible!
2) Who is your favorite Disney character and why? Peter Pan. Always wanting to be young and have fun? And all that energy? Not to mention he's a cutie.
3) What is your favorite Disney song and why? "Circle of Life" from The Lion King...that song is just so moving to me.
4) Disneyland or Disneyworld? Why? Disneyworld for one reason that can be summed up in one world: EPCOT!
5) Do you have any decorations or articles of clothing in your home that are Disney and what are they? Oh, my, YES. I have a set of oversized Disney princess mugs...one for Sleeping Beauty, Cinderella, Belle, and Ariel. I have a Disney princess calendar in my office and a clock featuring Sleeping Beauty, Snow White and Cinderella. I have a Cinderella navel ring. I have a Mickey Mouse t-shirt. I used to have a Mickey watch around here somewhere. I have three pairs of Mickey earrings. And when I was doing my precomp training, a friend of mine in Houston made a special Cinderella scale for me permanently set to 130 lbs...the weight that I had been told over and over again that I needed to reach to compete.
And...the
Weekly Bit
!
1. Do you believe in ghosts, spirits, the supernatural? Have you ever had a supernatural experience? I do believe in spirits, but I've never had a supernatural experience.
2. What is your favorite scary film? Book? My favorite scary movie is Seven...favorite scary book is Pet Semetary by Stephen King.
3. Do you still dress up for Halloween? What is your fav costume? I don't dress up for Halloween anymore because I have nowhere to wear it to, but I think I probably WILL dress up again when I have kids and want to take them trick or treating. As for my favorite costume, it's tied between two. My mom is the best seamstress and she made me numerous things over my life...Halloween costumes, both of my prom dresses, my wedding veil, lately a set of pillows for my couches...you get the idea. The two best costumes she ever made me were a harem girl costume and a flapper girl costume. The harem costume was fuchsia gauze pants with a turquoise and purple cummerbund, and a black velvet vest with pink scallop embroidery and fuchsia gauze sleeves. Throw in a black leotard, turquoise jelly shoes, and a pink mask, and I looked pretty awesome. I'll have to see if I can find the picture one day so I can post it...maybe for Halloween. The other costume I don't have a picture of, but it was a midnight blue satin flapper dress with navy fringe...and black fishnet stockings. I looked probably sexier than an eleven-year-old has a right to! Anyway, those were the best costumes.
Okay, happy Sunday and I'm off to do my laundry and stitch. I have nothing else to do today! Oh, and relax, of course.