Only three days and I reached the end of my rope!
To be honest, I was a little surprised. I thought I'd last at least a week before I broke down in tears because of work. It sure didn't take long. I don't even know what happened...if it was getting yelled at for the umpteenth time by one of C's people, the fact that it was 4 pm and I hadn't showered yet, or having to turn down one of the supervisors at work for a fire just because I couldn't do it, but finally around 5 pm, the tears started to roll. The icing on the cake was when I realized that one of the estimates that C was working on before she left was not quite as done as she led me to believe. Not even close.
So I cried for an hour on and off. I had to call her twice for other things, and finally just let it loose, and she knew without a doubt how upset I am. I hated to tell her, but she has to know that she has created this situation for me! And one things I have learned...it's probably not a good idea for us to partner up on fires anymore. She can have her fires, and I'll have mine. Period.
Anyway, the best thing about today is that I now own my first piece of baby furniture.
Sharon
sold me her maple dresser! Thank YOU, Sharon!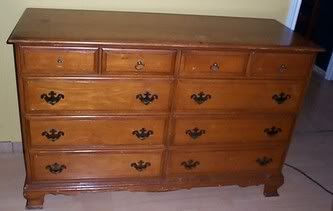 I am so stoked. We are going to strip it, paint it white (or whitewash it if we can figure out how) and put
these handles
on it. P wants to check out Home Depot, but I have my heart set on those seahorses and fish pulls.
Not much else to report, I guess. I was thinking about stitching, but now I think I'm just going to go crawl in bed early and catch some shut-eye. I'm very tired, and I have a long day tomorrow filled with super-fun meetings and other nefarious tasks. I don't know what nefarious means, but I like the sound of it. One thing for sure...I want to put this day behind me. My eyes are very puffy from crying so much. I just want to get through this!