Four days left!
Are you wondering what will happen in four days?
Hopefully...nothing.
Thursday, May 5, is the eve of the day marking my twelfth week. December 6 was also the eve of the day marking my twelfth week of my last pregnancy. In other words, if I make it through Thursday, my pregnancy will have progressed further this time than it did last time.
According to my doctor, I've already passed that point since last time she thinks I was seven weeks along when I miscarried and it just took my body a month to figure it out, but mentally, it will feel like a HUGE milestone when I wake up Friday morning and everything is fine.
Really, I feel like everything is fine now. I'm exhausted all the time, but otherwise feeling good!
I did decide Friday that I'm going to give my doctor ONE more chance. I discussed it at length with P, and we agreed that she was rather excellent when I had my miscarriage and even though we didn't agree with what she did at my last appointment, ultimately I still would like for her to deliver my baby. I think that based on how she handled the miscarriage, she will really be great to have in the room when I am delivering my first child. So, I did cancel my appointment with the new doctor. However, I made absolutely sure with them that if I need to, they will take me on as a new patient anytime this summer, and P's going to go with me to the next appointment so we can discuss what happened even more. If anything bad happens, it's over and I'm switching doctors. So we'll see how it goes.
I bought some nursery stuff tonight finally! I finally felt secure enough to do it! Finding Nemo is it, if you couldn't tell from my variety of new blinkies that I found. (By the way, if you are looking for some new art to spruce up your blog with, visit
Blinkie Heaven
and I don't think you will be disappointed at all.)
Anyway, this is what I bought!
The wallpaper border...we're going to go match some paint to it as soon as it comes in:

A very cute alarm clock since all the wall ones I've seen are very ugly: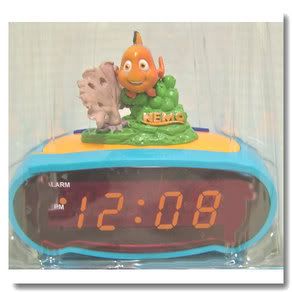 And, the piece de resistance, ceiling fan blades for baby to look at! It is actually the whole fan I bought since it was only $10 less to just get the blades. (Please note that the ceiling fan blades exactly match my wallpaper.)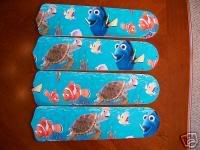 My stepmother also bought a throw rug for me, so I'm on my way. We also bought some furniture stripper today at Lowe's (which I can't be in the room with so P's on his own) for the dresser, so hopefully we'll get that started this week. I looked at Lowe's and found the ocean sea pulls that I want, but since they would have to be custom-ordered, they are still cheaper online. As soon as I make some decisions on what exactly I want to go where, I'm going to order those.
Here they are if you want to see them.
I also may stop by Michael's one day this week and pick up some frames for the lithographs that my friend in Florida, E, sent me, and get those framed up. And we even decided on plain white bifold doors for the closet that we are going to get next week. We are making serious progress. P really wants to paint the room some shade of Carribbean blue turquoise (think DMC 597, stitchers), which I am not terribly crazy about, but considering that I pretty much picked out the Finding Nemo theme with no input from P, I'm going to concede defeat on that point. You gotta pick your battles sometimes.
I have more to report as well, specifically the great baby discussions I had with my friends and in-laws this weekend, but I really really need to eat some dinner and start some laundry, so I'm going to save that baby diatribe for another time. I don't have much going on tomorrow with work, so maybe I'll write about it then. Heck, maybe I'll even do the Sunday Brunch! I really need to get back into memeing again, but things are just very very busy right now!
Until then, enjoy the new art on my blog, I hope you like the stuff I bought for my nursery, and enjoy what little is left of your weekend!