The big day is here!
And....

Here she is!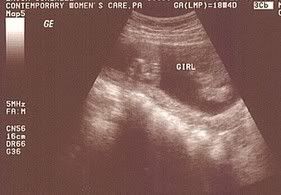 And some better pictures...look at that SPINE!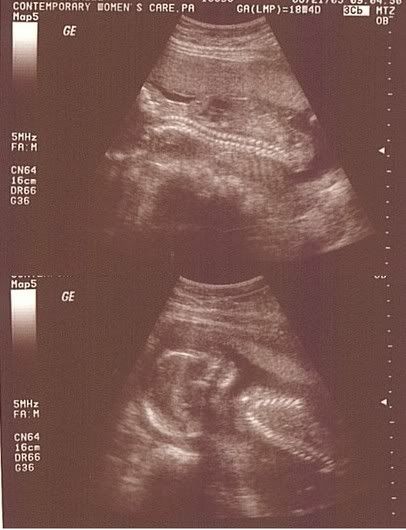 Everything looks very good...heart, kidneys, stomach, head, arms, legs, hands, all well developed. I can't believe how big my little seahorse has gotten!! It's unbelievable. Our blood screen came back too for the genetic abnormalities...all good. Our little girl is looking good!
The tech is about 90% sure she's a girl. The darn kid would NOT sit still long enough to let us take a good look and she kept moving her arms, hands, cord, everything right in front of where we wanted to look, but the good thing about her moving so much is that if there had been male genitalia, we most likely would have seen it. We'll keep our boy names on file just in case, but P was convinced without a shadow of a doubt when he left that we are having a girl for sure.
But for now, we'll start seriously thinking about girl names.
Yahoo!