Finally, we're getting somewhere!
I can see the light at the end of the tunnel. I really really really can! (Or, at least the light past all the boxes and piles of stuff that are slowly but surely dwindling away.)
I alternated today between working on work stuff and the house, but I think I was successful and look at all the finished rooms that I have to show for it. In one sentence, this pretty much sums it up...is this what it feels like to be organized?
First off, the office...THIS is the grape explosion. I'm sorry it's so dark, but it's hard to get a good picture with the glare from the window.
Here is a better picture so you can see the Lilac Glimmer on the walls before painting...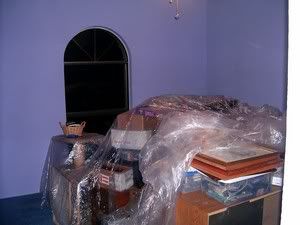 And the beauty that is my wonderful organized office now...painted in Thundering Clouds and with a new addition...that sheer scarf on top of the drapery hardware.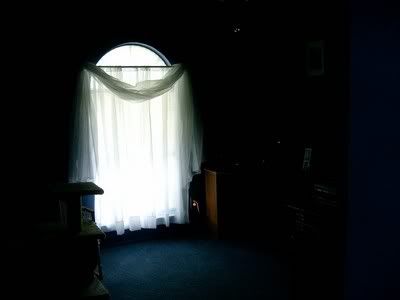 This is my desk area...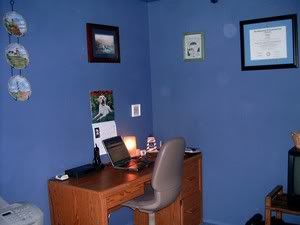 And this is my lighthouse decor, which has found a new home here after being quietly asked to vacate from the kitchen...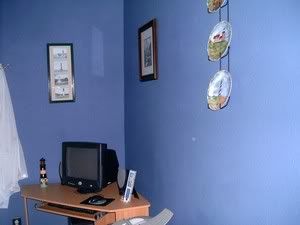 And best for last, my beautifully organized new closet with new shelving! And the best part is that I STILL HAVE ROOM UP THERE and I can open and close the doors without bated breath!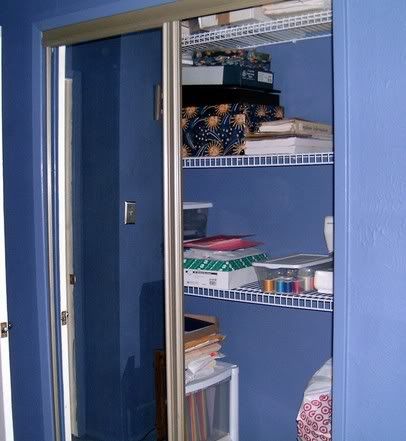 Next room that has been a labor of love by P is our master closet, freshly painted in Alice Blue and complete with a brand-new Closet Maid shelving system!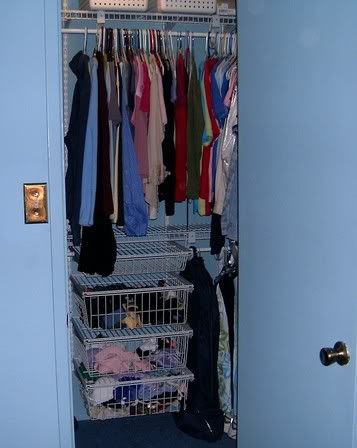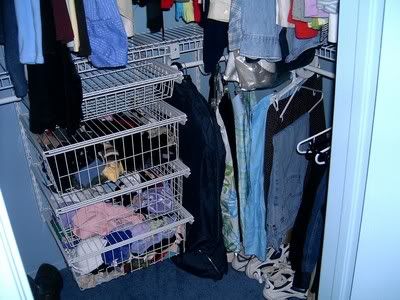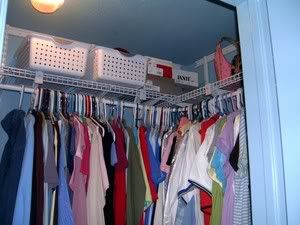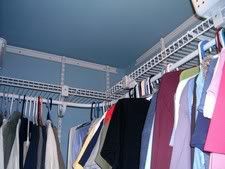 And lastly, my cross stitch closet, which is now clean, organized somewhat, and painted in the remnants of Lilac Glimmer and Thundering Clouds...and I swear never again to try to paint a room two colors. Definitely one of the stupider ideas I've had, even if it did come out well.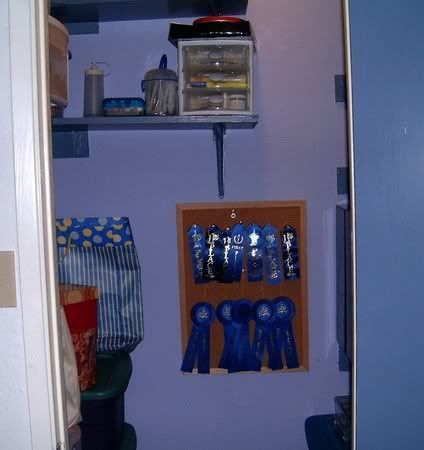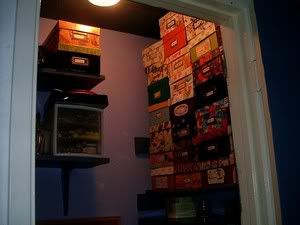 So that's it for now...P worked on the crown molding in the master bedroom all day today and is half done. It's very tricky because our walls are not straight, which we anticipated, but it's hard to get the crown nailed in correctly. But it's getting there. He set up the headboard tonight, and as soon as he is finished mounting the crown molding, I'm going to finish the painting.
Then, it's time to move on to the main areas! I can't wait! Later this week for sure...I have promised myself I will finish that defensive driving class FIRST. Must. Get. That. Done.
Anyway, it's time for me to hit the sack...I have a long day tomorrow.
Thanks for looking at the pictures!