A Celestial Paradise
For those of you that have seen my master bathroom before, this probably won't be much of a shock, and I didn't take any before pictures, not before we redid this bathroom in 2002 or yesterday before I repainted it. But just to give you an idea of what we have done to this bathroom since we bought this house...
-replaced vanity and toilet
-replaced tile floor with vinyl tile
-replaced exhaust fan
-replaced baseboards (twice)
-painted it (twice); it used to be just plain white
It's been a long time work in progress...almost as long as our hall tomato...er, I mean bathroom.
We have had this celestial shower curtain since we got married in 1999, and it's kind of been the cornerstone of our decor. I can't believe it has lasted this long, but we continually use liners with it and just wash it in cold, and I guess it just is very durable. Plus, I love celestial themed things, and at the time we chose that theme for our bathroom, it was very popular and very easy to get bathroom stuff at Target and Wal-Mart to fit with the theme.
Here we go! This is the overall view from the entrance...that is our new toilet topper system that P put together today and which I LOVE! Best $15 I ever spent at Target. That thing is holding ALL of my makeup, scrunchies and body sprays. Fantastic.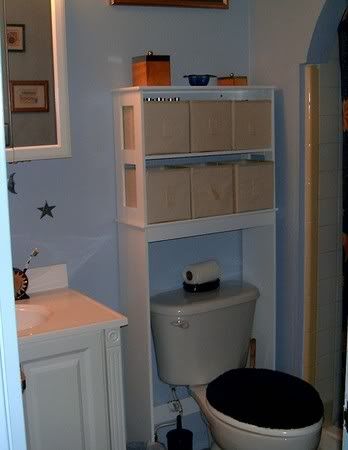 This is the view of our vanity area. Not much is new here...except for the GFI outlet cover: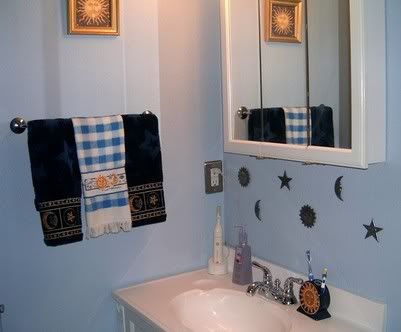 These are our brand-new non-funky smelling rugs...we also bought the toilet cover to match, a new toilet scrubber, and a new wastebasket. You gotta love Wal-Mart.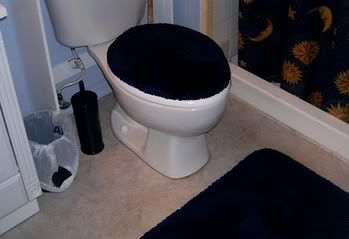 This is the shower curtain I spoke of above, and we just updated it with some new hooks, a new navy blue liner, and that clock above is the clock from our master bedroom. I had decided to move it in there not so much because I need a clock in the bathroom, but just because it matches the celestial theme and it does not match the color of my master bedroom at ALL.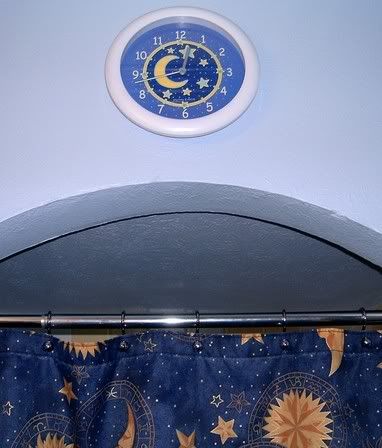 And lastly, my beautiful new baseboards.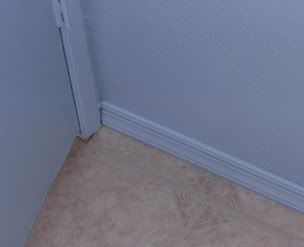 So! I'm a happy girl. My bathroom is clean, freshly painted, organized, and looks GREAT! Down the road I'm sure we will replace the floor again and of course, there's the shower project to be done at some point (notice how I didn't photograph the shower?) and I'd kind of like a different light bar or a lighted medicine cabinet. But that's for another day. For now, I am counting this room as DONE!
I was SO hoping that the hall bathroom would be done tonight too, and we came SO CLOSE, but we realized after P installed the exhaust fan that there is some bare drywall showing and he quickly fixed that, but it can't be repainted until the joint compound dries thoroughly, so I'll have it done tomorrow. But it's close. He installed the toilet and vanity, nailed on the new baseboards, we both cleaned the tub up and he put up the sealer trim on the tub, I put up the new outlet and switch covers and finished touching up the walls and base, and thoroughly decluttered and cleaned the vanity and medicine cabinet. We now have bins under our vanity for first aid supplies, medicines, and foot care. Ah, it's a wonderful feeling to be organized and know that everything in the house has its place...I've never known this feeling before! Anyway, I'm going to finish painting the ceiling tomorrow morning so P can reinstall the exhaust fan, and then we can put our decor up and take some photographs and count that room done.
In other remodeling news, we did MAJOR shopping at Lowe's and Conn's...our range and microhood have been purchased and will be delivered this week. At Lowe's, we bought the granite sink that we were drooling over yesterday plus a new stainless steel faucet set and a 5/8 HP Insinkerator (garbage disposal for those that don't speak plumber), paint for the office, and a TON of shelves and hardware for our master closet. Getting organized, while it is a good thing, is an expensive thing, but fortunately, it was within the budget that we anticipated. What color did we pick for the office, you might wonder? Well, P waited until we got to the paint aisle at Lowe's to pick a fight with me over my desire to paint the office a beautiful oceany blue-green. His theory was that if he waited until we got to the store to do that, I wouldn't make a scene. Ha! It wasn't a scene, but it was a good thirty minutes of negotiating over a COLOR. Finally we agreed on Thundering Storm...which is a gorgeous dark blue slate color and I think will make our office look great, even though it wasn't my first choice. So tomorrow, I'll begin the very long and arduous task of cleaning out this room. And it's going to be a long journey. If I am ready to paint by the end of the day tomorrow, I'll be shocked. P, on the other hand, plans to work on our closet.
And with that, I'm off to bed. Happy July 4th, everyone!