The rise of the tomato
Installation of the exhaust fan took a little longer than we thought...when P repaired the drywall, we realized that the old fan was hanging on literally by a thread...just caulking was holding it in place. So he had to go into the attic to fix it. But we're all set now and look at our beautiful bathroom!!! Posting these pictures really warms my heart. This poor bathroom has been through SO much. Those of you that remember seeing this bathroom through the years as it's been in various stages of repair (remember the exposed stud walls?) are probably sitting there thinking, "Is that the same room?" I'm proud to say that it IS!

Here is the overall view from the doorway. As you can see, the dominant color here is a pale green.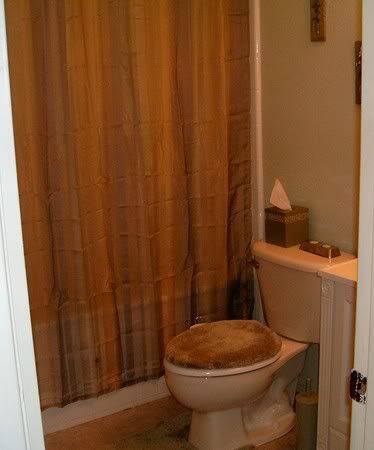 Here is the miracle...the tub. This used to be a standard builder's grade tub that we upgraded last year to a garden tub, had the tile repaired and replaced the hardware. Believe it or not, under that white paint there are THREE shades of tile...the original nasty turquoise, the white that it became after the previous owner painted it, and the off-white that the contractor repaired the surround with last summer. P worked VERY hard on this tub surround to get it painted so it looks like the same tile.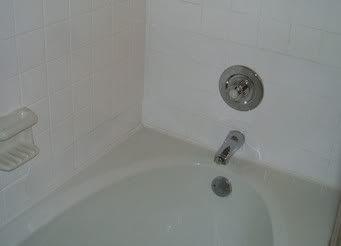 A close-up of our Ancient Olive paint, our new baseboards, and our new sage green towels...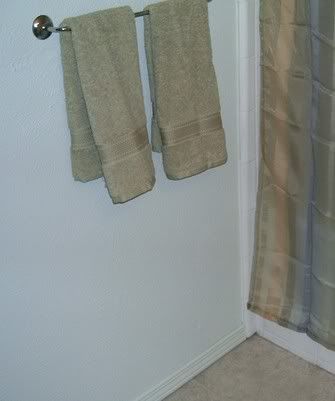 A view of our toilet area...new rugs, new tissue box cover, new wastebasket, new toilet tissue holder, and new toilet brush holder.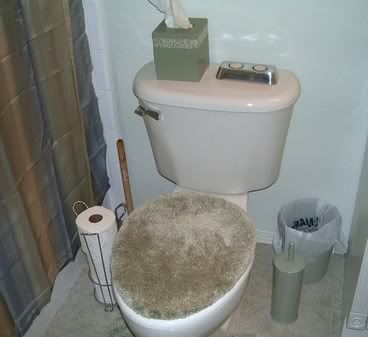 And finally, a close-up of that new shower curtain, the shower rings and shower rod, and our wall art that matches it all perfectly.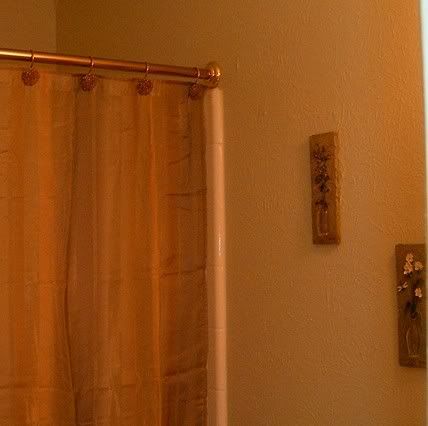 The only things I can see that I want to do to this room is buy a piece of art to hang on the wall opposite from the toilet (which I'll look for passively over the next few weeks, but not break my back doing it), replace the door and door hardware, and replace the medicine cabinet and light bar, but a lot of that is way down the road for Round #2.

Bathrooms + nursery = three rooms done. SO happy.

And now, P and I are rotating rooms as usual...he's now working on the crown molding in the master bedroom (which is harder than he thought!) and I'm working on the grape explosion, otherwise known as my office. It's just as bad as I thought in here. The only thing I have managed to accomplish in the last six hours is to fill up one complete bag of trash and made the decision to refinish my bookshelf for my nursery instead of buying a new one, which is what I was going to do.

Back to the grind.