My finished master bedroom
P hit a hot streak last night and finished putting up the rest of the crown molding, so I got busy, got it painted, cleaned up, and this morning I changed the bedding. We're ready to go!
(That's Simon on the bed.)

Here is the elusive crown molding with the plinth block. (To answer the question in my blog about how I knew about plinth blocks, it's my construction background with work. I know a lot of contractors!)
Another shot of the crown with our new clock: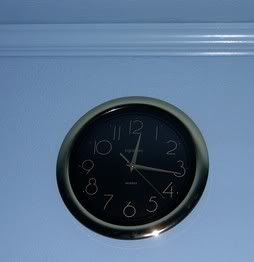 And our new CD holder since our old one broke the other day!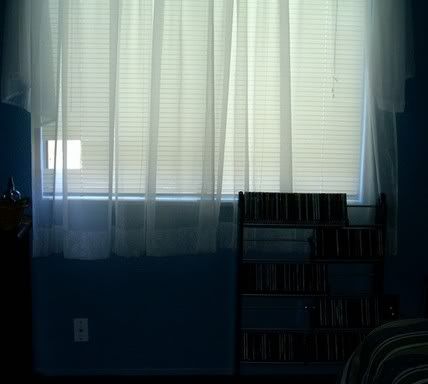 Those are really all the changes we made in here except it's SO clean now. Anyone that has been in my bedroom probably is like, "Wow, the carpet is blue in there?" The paint is Alice Blue, but that was the color it was before...now it just looks much brighter and cleaner. P also finally screwed our bed frame to the headboard (only took us eight years to do that), we cleaned up a bunch of stuff, and it just looks much better. Punch list is the carpet, of course, new window (the contractors are going to put that in when they do the window in the kitchen) and new blinds for the new window. I also at some point would really really like to sand down those dressers and nightstands and refinish them with new hardware. It is my parents' old bedroom suite, and they have a lot of scratches and dings on them.
I can't believe that my house is almost halfway finished. We have all three bedrooms with closets done, cross stitch closet done and both bathrooms. We are making progress!
The living room needs to be cleared out AGAIN before I can start painting...P has all of his hunting stuff out, there are boxes and boxes and boxes of garage sale items, and I still have about eight or nine loads of laundry to do, but I'd say we are in very good shape and I am LOVING my new and improved version of my house!
Baby update...I had an appointment today to check up and everything looks great. Blood pressure is normal, weight gain is normal (or if it was too much, my doctor kept her trap shut) and she said I look great and the baby is actually measuring a little ahead of schedule so it's all good! Next appointment I get to do the gestational diabetes test with the drink...fun times. She also signed my paperwork so I can apply to donate my cord blood and gave me a release to get a 3-D sonogram in six weeks or so, and it was a good appointment. The baby is moving on a regular basis now and the doctor said that is a GOOD thing and that I should expect it to pick up in the next few weeks.
So! That's all from the world of Moira at the moment. I'll post more pictures this weekend as we get the main areas done. I pointed out all the drywall areas to be fixed with P this weekend and he's going to get started on that tonight or tomorrow.
I hope. *wink*