Thunderstorms
It stormed all day here...and for any normal family that would spell disaster, but not for us! It just so happened that it was sunny this morning, and then stormed while the kids were resting, and then cleared for a while so they could swim, and now it's raining again. Which honestly I think is great because it means that the weather was nice and cool, AND I didn't have to lather myself in sunscreen. And the pups are sound asleep here next to me. They have swam their little hearts out today! I haven't seen Katie sleep this soundly in a long time. She isn't even opening her eyes when I pet her right now, that's how zonked she is. I took lots of pictures, as hard as that was with the two of them in perpetual motion, and here are the best ones: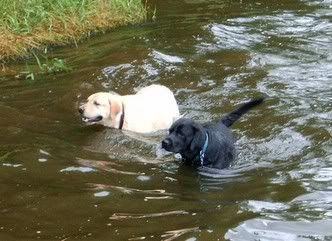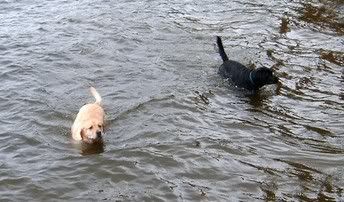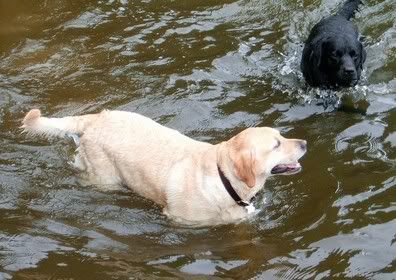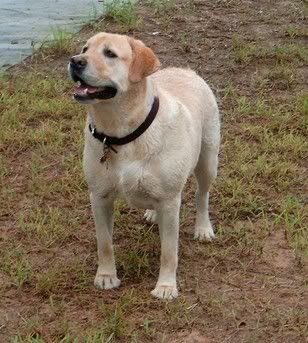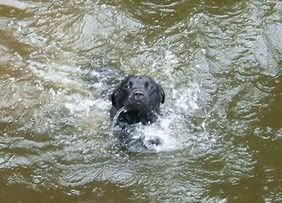 For anyone that doesn't know, Katie is the yellow, and Simon is the black. They are the best dogs!! (Even though Katie's a chicken and wouldn't jump off the dock because she didn't want to get her head wet and Simon's a bigger chicken for not wanting to go anywhere without his older cousin in tow!)
I don't have much to report otherwise...I got to sleep in today again (my husband is the best man for letting me catch up on my sleep), and every time the dogs were sleeping, I worked on Stretch, which is just looking incredible, I have to say. I haven't worked on it in a long time, but I'm really enjoying it. It's just like a rainbow dragon. I'm adding Kreinik to the whole thing, and it's just really glittery and perfect. I love it. My only complaint is that I forgot to bring extra floss bags with me, and Stretch is nothing but blended floss colors, so I'm having to improvise a little bit on storing my blends, but it's okay, and I'll fix it tomorrow when I get home. And the light here is not that exceptional...but there is a skylight right above where the couch is, and when the sun did peek through, it was perfect for stitching. Note to self...when I build my dream house, install a skylight directly above favorite stitching chair! A few minutes ago, when I was waiting for my pictures to upload on this painfully slow dial-up connection, I cruised over to the
TWBB
to pop into the Stretch/Tempest forum, and lo and behold, there is a NEW freebie dragon that Teresa Wentzler designed in honor of the worldwide Las Vegas get-together. Check THIS out...isn't he cool looking? His name is
Futurecast
. Definitely a great addition someday to my dragon collection. Right now though, between Guardian, Celestial Dragon, Stretch and Tempest, I think I'm set.
I think tonight we're going to drive into the little bitty town and pick up a movie or two...Philip is enjoying playing his Playstation but I think he's even getting a tad restless! (Note to Terri...I had no idea you were planning to retire to Lake Palestine! What a great spot! Make sure you plow a garden!) Tomorrow, we'll get up early so the dogs can have one last hoorah in the lake, and then we're blowing out of here by lunchtime hopefully. Perfect vacation. And I feel so rested and healthy. It's hard to imagine that only a few days ago I felt like dying.
Just one meme for today...
Thursday's Tattle
. There's no Theater Thursday this week, and the others, well...they require way too much thinking for me during my vacation. Next week, when my brain is switched on, I'll give them a shot. But a meme on hair, I can handle.
And speaking of which, can you believe I forgot to bring a brush on this little adventure!?
What color is your hair? Blonde.
Long or Short? Long.
One length or layered? One length.
Curly or straight? Straight as a board.
Permed or natural? Natural.
Ever cut your hair super short and regretted it? I've cut my hair very short twice...once in third grade and once after my freshman year in college. And we're talking short short...Demi Moore in Ghost short. And I didn't regret it either time. I don't think I would cut it short again, but having short hair at the time was great. Talk about low maintenance.
Are you happy with your hair right now? Yes. Very.
Are you letting it grow out? Yes, but I think it's at about the maximum length. My hair is pretty thin, and when it gets any longer than this, it gets kind of yucky, so this length (middle of my back) is perfect.
The storm is starting to do the disconnect thingy with the phone line (I so miss my DSL), so I better close this up. I hope you enjoy the pictures of Katie and Simon!