Movie Night!
What a nice quiet evening I had last night! It was great! And I feel so much better this morning. I stitched for about five hours (as you can see from the new and updated picture of Enchanted Dreamer), watched a couple of movies, ordered pizza, hung out with my dogs, and just in general was a couch potato. It was very nice and I definitely feel more human today. Here are the movies I watched and what I think of them:
The Human Stain: Very weird. Not at all what I expected with actors of the caliber of Nicole Kidman, Anthony Hopkins, Gary Sinise and Ed Harris. It dragged very slowly and didn't have much of a climactic ending, that's for sure.
G.I. Jane: I've seen this one before and I bought it on DVD, I liked it that much. I think this might possibly be my favorite movie of Demi Moore's...and Viggo Mortenson looks great in it. I LOVE the ending. Anyway, if you haven't seen it, rent it...it's definitely entertaining for a few hours.
Dirty Dancing: Havana Nights: Much better than I expected...I had heard this movie was lacking, but I thought it was good and the dancing scenes really surprised me. Plus, Patrick Swayze made a cameo appearance, which I didn't expect, and that was great...although I should have expected it. It was a great tie-in to the first one. And let me tell you, that man looks great for 52 years old! So, also worth renting, especially if you liked the first one. If you didn't like the original DD, don't bother.
Gia: Weird. Not much else I can say about that one. Angelina Jolie always finds weird roles to play, that's for sure.
And...very late last night...I snapped a secret picture of Taylor and Simon. What makes this picture twice as funny is that out of my five pets, these two hate each other the most. I don't know if it's a "we're both the youngest cat/dog" or what, but they don't like each other that much, so for them to be doing this is amazing!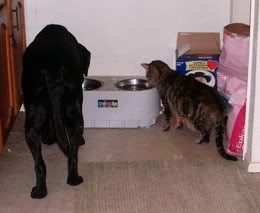 I made a decision yesterday, and I'm not going to make a big deal out of it, but I'm going to start another Body For Life challenge tomorrow. My gym and eating habits have just been very hit or miss this summer, and I really want to do something about it. Body For Life is what I know works, so I'm going to give it a try and attempt to make myself get to the gym more often, take the time to make my food every day, etcetera. I've done it before, even when I was crazy busy, and I can do it again. So we'll see. I'd just like to drop a few pounds before my trip to Florida. Most of my family there hasn't seen me since I got married, and I'd like to look great when I go. I feel like I look pretty good now, but I'm getting a very soft tummy, and I'd like to get rid of that or at least minimize it! So wish me luck! I just hope I can stick with it. I think the guidelines that I've set for myself are a lot looser and less strict, so I think it should work this time. We'll see.
Memes...first, my very own
Sunday Brunch
!
1) If you had a wedding, what flowers did you have at your wedding? I had white calla lilies and red roses.
2) What is your favorite flower? Roses.
3) Do you have flowers as part of your landscaping outside or your interior decor? We have purple irises in our front flower bed, but nothing inside other than some silk flowers. I have a small vase with silk bluebonnets on my desk, a basket of yellow and blue flowers in our bathroom, some small vases with burgundy flowers in our hall bathroom, and I think that's about it. I used to have silk sunflowers all over one of my apartments, but silk flowers are dust magnets, so I don't decorate with them often.
4) If you went to your high school prom(s), what kind of flower did you wear in your corsage or boutonniere? White rose my junior year and a red rose my senior year.
5) Do you like to receive flowers as a gift or do you think it is a waste of money? Both. I have received flowers often in the past. One of my old boyfriends, T, used to bring me a red rose on a lot of dates, and it was a sweet gesture and I liked it, but now I just see flowers as a waste. When I worked in an office, I gave P strict instructions...no flowers on my birthday or anniversary! I'd rather have him take me out for a great dinner!
The Weekly Bit
...Dad, cover your eyes!
1. Describe your first kiss. I think I may have covered this before, but my first kiss was when I was fourteen...it was in a movie theater, and I was so surprised that M kissed me that I forgot to kiss him back, hence probably why I never got asked for a second date. It was very sweet though. No gory details, sorry. Although for any Guiding Light fans out there, M looked a lot like
Carl T. Evans
, the actor that played Alan-Michael Spaulding back in the late 1980s...
2. Who was your first boyfriend/girlfriend? Officially? My first boyfriend was this kid, J, when I was in third grade! We played together at recess, talked on the phone at night, he gave me this little ring with a silver arrow on it for Christmas, and flowers after I was in the chorus for the school play. Talk about hot, even though he never kissed me.
3. When was your heart first broken? Junior year in high school. My boyfriend J (same name as the kid in third grade,if you can believe it!) broke up with me for reasons unknown about two months before the prom. I was devastated. I felt like I would never stop crying.
4. When was the first time you fell in love? Well, I would have said my sophomore year with J...since he really devastated me when we split, but when I look back on it now, I think that was more puppy love and infatuation. The real thing happened the summer before my senior year in high school with T. I really thought that he and I would have gotten married, but that was my first lesson that sometimes it takes more than love to make a relationship work. And it took three break-ups with T to learn that lesson well. And the devastation and sadness I felt after the split with J paled in comparison to the devastation that I felt while learning that lesson and breaking up with T over and over again. It's a good thing that I moved to Texas or the cycle, I'm sure, would have kept repeating itself over and over again. Love was never the problem.
5. What was your first real date like? Even though our parents had to drive us to and from, I consider my first real date to be the date with M when I was fourteen. We went to see the movie Shocker with my best friend S and her date J.
And finally, the
Daily Dirt
!
1. What's the naughtiest thing you've ever done? Depends on your definition of naughty. If we're talking mischievious, I once toilet papered a friend's house with a group of friends when I was a junior in high school. If we're talking indecent, wicked and immoral, I decline to answer on the grounds that I may incriminate myself or give my father a heart attack. *grin* Just kidding.
2. Have you ever played strip poker? Yes. When I was a senior in high school, I played with a group of friends and we only went down to our underwear.
3. Have you ever been to a strip club (male or female)? Nope (although Philip keeps threatening to take me to embarrass me!)
4. What's your everyday personality like: Naughty or Nice? Nice.
5. What song best describes you in your naughty phase? "Poison" by Alice Cooper. I can be really mean sometimes.
Okay, that's it for now. I'm going to go walk the dogs and get ready to go out and run some errands. I hope everyone has a pleasant Sunday!