The one and only Christmas party
My work Christmas party was last night, and BOY, was it lame!
Somehow someone had the bright idea to combine all of the claims office in the Dallas Metroplex into one party. They did this one other year, and it was just as lame. Somehow someone forgets to remember that everyone in the property office barely knows each other, let alone two other offices that they never see! It was just SO dumb. The food was all right, but it was a cash bar, it seemed like no one from my office won any gifts, and they were doing karaoke all night, which was awful.
The one funny part about last night was that we had gone to Kohl's to get new threads for the party (which I desperately needed since I am officially one size bigger in pants now thanks to the pregnancy weight which I'm having trouble shedding) and we saw this horribly tacky black velvet top with red glitter on it. P saw it first and immediately said, "Watch, someone at the party will be wearing that top," and lo and behold, the WOMAN checking people in at the door was wearing it. It was quite funny. Here's a picture that P snuck of this woman: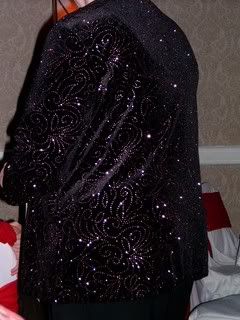 One great part to the weekend was that I got a $50 giftcard FROM Dooney and Bourke Friday night. And when I say that, I mean that Dooney and Bourke sent it to me! The only thing I can think of is that they must have sent it to me as a thank you for all the purchases I've made over the last couple of months...and the fact that I registered all three of my Dooney and Bourke items. So, I'm very excited. I've been looking at Dooneys a lot lately online...there are quite a few that I'm considering, but the black hearts style is definitely top on the list.
Last week was very busy with work...but I think I accomplished what I needed to accomplish, and I'm actually in a much better state now than I was a week ago, although, of course, having a bunch of claims paid and closed helps quite a bit. I have a few field inspections tomorrow, and I have full expectations that I'm going to get a fire in the morning.
I'm going to do a little meme catching up today...I can't believe I've just ran out of time to do them altogether. *sigh* Today I get to spend the day writing Christmas cards, doing a bit of shopping, and cleaning my house.
Here's my Sunday Brunch from last week:
1) What is your favorite color? I love just about any shade of blue.
2) What colors are your cars? My Honda is charcoal, my Explorer is black, and my Malibu is forest green.
3) What color are your eyes? Green.
4) What color do you like to wear most often? Black.
5) Name your favorite possession of each color of the rainbow: (red, orange, yellow, green, blue, indigo, purple) My Volcano red nail polish, my orange claims notebook, my yellow princess socks, my emerald ring, my sapphire ring, my lapis ring (indigo), and my periwinkle Dooney.
And from this week, I have two!
1) What is a Christmas tradition that your family did when you were a child that you loved the most? We always got our tree together as a family and decorated it as a family. It was great.
2) What is a Christmas tradition that you plan to instill in your own family or already have instilled from when you were a child? I would like to make it a habit of all of us sitting down to a great Christmas dinner in the early evening, going to Mass as a family, and then coming home to watch a Christmas movie...all as a family.
3) What is a new Christmas tradition that you have instilled in your family that is new to both you and your significant other? We don't have any...yet.
4) Do you make any traditional holiday dishes? My apple pie is requested EVERY year.
5) Does your family open Christmas gifts Christmas morning, when the clock strikes twelve, or one gift the night before and the rest the next morning? Philip and I are slackers...we open our gifts pretty much when we get them in the mail. But when we have kids, we'd like to do the tradition of one the night before, and the rest in the morning.
1) Can you play a musical instrument? If so, which one(s)? Piano and clarinet.
2) If you could be part of any band or musical group on the planet, which one would it be and who would you be and why? I always wanted to be part of the Bangles, and I always wanted to be Susannah Hoffs.
3) What is your favorite genre of music? Pop.
4) What is your least favorite genre of music? Rap.
5) What was the last song you heard or what are you listening to right now? I'm watching Cheaper by the Dozen, and the last song that I heard was "Life is a Highway" as the family moved to the city.
P just came in and asked why I wasn't writing cards (I have EIGHTY of them to write) so I better close this up and get to it!