My belly at twelve weeks
I can't believe I'm posting this on the internet, but my dad and stepmom assured me before I posted that I DO look pregnant and not just fat!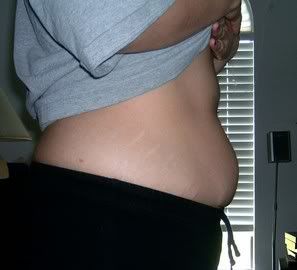 It won't be too much longer before I have to take my navel ring out...it's just getting kind of irritated. Hopefully it won't close back up, but we'll see. I'll take another round at the end of my second trimester, probably towards the end of the summer.
And with that, I'm off to go clothes shopping! I'd really like to score two pairs of pants and two pairs of shorts.