The arrival of Princess McKenna
Well, some of you have already heard on various boards that my labor from Friday night WAS true labor and I had my daughter on Saturday. Here's the story and pictures!
My milk came in tonight, so I've been alternately feeding my daughter tonight and pulling photographs off my digital camera. I delivered McKenna Lauren Saturday night at 5:25 pm. She was 8 lbs, 12 oz, and 21 inches long. She swallowed some liquid on the exit, so her pediatrician opted to keep her at the hospital one extra day. I was discharged yesterday, but the hospital was kind enough to let me move into a room down the hall at no charge so I could stay with her. Then, today we all came home together.
After I posted my last post on Friday, I did exactly what I said I was going to do. I showered, went for a walk, and scrapbooked. I got ALL my Cancun pages done and it was great. After I was done, I asked P to take me to Michael's and out to dinner since it was clear that my contractions were over and my water didn't break from my walk like I had hoped.
When we arrived at Michael's, things started to get interesting!
Almost as soon as I walked in the door, my contractions started up again. I had timed the contractions I had that morning and the day before, and none of them were closer really than about twelve to fifteen minutes apart with a few that were closer. These were different...they were a little more intense and a little closer. And I noticed that I was having a MUCH harder time walking around. We went out to dinner, and my belly felt SO big, I could barely reach my plate to eat. It was crazy. And the contractions kept on coming...quickening to about eight to ten minutes apart. I kept on eating...my doctor's office told me 3-5 minutes apart, so it wasn't labor. My husband on the other hand started to get excited and made me eat faster, saying that he was sure that I was having the baby over the weekend. He even took me to Target and bought new underwear and a button-down nightie for the hospital. And the contractions kept on going...still eight to ten minutes apart, but getting more and more intense. I finally went to bed about 2:30 am and took some Tylenol PM. At this point I still thought they were Braxton Hicks contractions, albeit PAINFUL ones, and thought that if they weren't the real thing, certainly Tylenol would take care of it.
I was SO wrong.


I woke up at 3:30 am in an incredible amount of pain. These abdominal cramps were enough to take my breath away. My husband was sleeping in the living room and said that he heard me gasping in pain all night. They were consistently fifteen minutes apart for the first two hours, but by 5 am, they had quickened to about ten minutes apart, but the INTENSITY was absolutely incredible. I've never had menstrual cramps like this. My miscarriage pains didn't even come close. It was unbelievable. I remember going out and telling my husband that if this was not the real thing, I was really in trouble!


Finally at 7 am, I couldn't take it anymore and called my doctor's office. They paged the on-call doctor since MY doctor is out of town until Wednesday. She called back immediately and told me the same thing that the nurse told me...that if the contractions were ten minutes apart, I was most likely NOT in labor, but that if I was that uncomfortable, I should go to Labor and Delivery, have them put me on the monitors and maybe they could give me something for the pain. She also stated that this was probably gearing up for the real thing, and that real labor could be as much as a week away.


Lesson #1 that I have learned through this: Not every woman's labor is the same and that if you feel in your gut that this is it, you should not disregard that feeling.


As soon as I hung up the phone with her, the contractions sped up to 2-4 minutes apart and were SO painful, I would double over in pain when I was walking around. I started packing the rest of my hospital bag, showered to go, and my husband drove me to the hospital. I had every anticipation that I would be told that I was not in labor and sent home.


The nurse that checked me told me that I was dilated to five centimeters and that I would indeed be having the baby today. They started me on a IV drip and put me on a pain killer called Staydol or something like that, and it DID take effect almost immediately and I was able to relax, although I could still feel every contraction. By the time we finished all the paperwork and got me settled in and ready to go, I was dilated to seven centimeters.


I was the only patient in Labor and Delivery at the time, and the nurses told me that they were paging an anesthesiologist to come in and administer the epidural if I wanted one. I really had every anticipation for this entire pregnancy of going natural, but I had those hopes obviously without knowing what this pain of labor felt like. It was also made pretty clear to me that it might be the last chance I had to get one, and all the nurses told me that since my water had not broken yet, the doctor would have to break it for me so I could dilate the rest of the way to ten and that once my water broke, the contractions would increase in intensity and frequency. The pain I felt between 3 and 7 that morning was so awful and I was so stressed and tired, I just gave in and let them give me an epidural. I did ask about having another dose of Staydol, but the nurses told me that they could only give me one more dose and that it probably wouldn't last for the entire rest of my labor or be as effective as the first dose had been.


And I am SO GLAD THAT I GOT THAT EPIDURAL!! I felt almost INSTANT relief and didn't feel any contractions for the rest of the afternoon. It was SO wonderful. My husband gave me my MP3 player, and I just laid back and relaxed the rest of the time. It was BY FAR the best decision that I made. Getting the epidural wasn't a piece of cake by any stretch, especially since by the time they gave it to me I could still feel every peak and fall of every contraction, but compared to the pain that I had felt earlier that morning at home before I even got to the hospital, it was a piece of cake.


My doctor came in and broke my water around 3 pm. I was dilated to eight centimeters. After that, my contractions slowed down and to quote my doctor, "my uterus just pooped out". The epidural was working very well, so they decided to put me on a Pitocin drip (another thing I didn't want originally) to stimulate the contractions. Two hours of that, and I was at a 10 and ready to start pushing.


At that point, one of the nurses came in (the one that was monitoring my epidural) and made one of THE best suggestions ever...he suggested that we turn down the epidural since I had planned to go natural and that way I would be able to feel the contractions on my own, control my own pushing, and most importantly, limit the recovery time after the birth. He told me that if something happened during the pushing, they could come in and administer an extra dose for the delivery.


My husband and one of the nurses helped me push. The nurse told me that most first-time mothers push an average of two hours. I did it in twenty-five minutes with no episiotomy, although I did tear just a little bit. At 5:25 pm, my daughter was born.


I had thought about how I would feel at that moment for months. I don't think anyone really accurately knows how they will react to it until they are going through it. I don't know whether or not it was sheer bliss and joy at seeing my tiny daughter and hearing her tiny cry for the first time or just relief that it was over and I wasn't pregnant anymore, but I couldn't stop crying and it was THE happiest moment of my life by far.


My recovery was very fast. I was up and walking within two hours of her birth. I was making phone calls to friends and family when I was in recovery waiting for my husband to come back from the nursery.


I had guests and visitors all day Sunday...the nurses called our room "the party room" because my visitors started at about 11 am Sunday and continued constantly ALL day until about 8:30 pm. I am really fortunate to have a lot of friends in the area and all of my in-laws to boot...it really made the day special and it was incredible!


So, that's the birth story! Thanks for letting me share it with you all! And without further ado, here is my daughter McKenna Lauren! I was really lucky that she is really good at breast-feeding...we have been able to pick it up fast and get a great rhythm going. Today before she was discharged, they said that she has some jaundice and has lost about 10% of her birth weight, and really were encouraging me to supplement with formula, which I didn't want to do and still don't want to do, and fortunately since my milk came in tonight, the jaundice has gone away (or at least has gotten better) and I don't think we'll have to supplement after all, which makes me HAPPY. And I am SO happy that I didn't have to have a C-section or induction, OR that she didn't make me wait two more weeks. It was the perfect weekend!

That's it! That's the story!!! :) Thanks again for all the great wishes and congratulations!

My daughter in her coming-home outfit: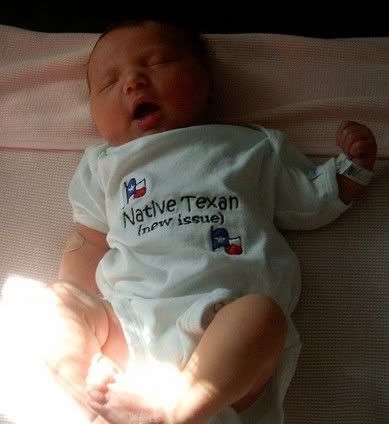 My daughter immediately after birth: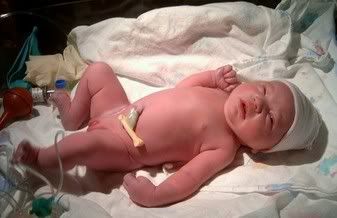 My big girl! The ultrasound tech was only off by two ounces!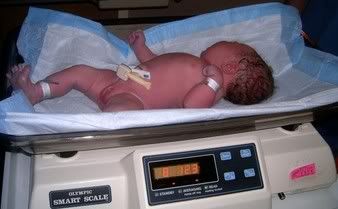 McKenna in her Chicco...and not very happy about it: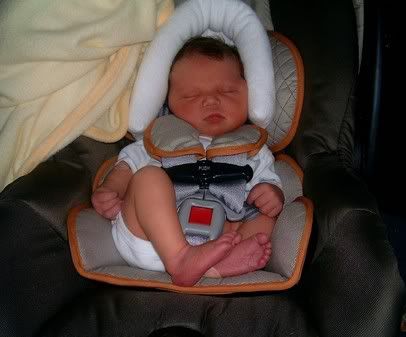 And McKenna in her Chicco after realizing how great riding in the car is...MUCH happier now: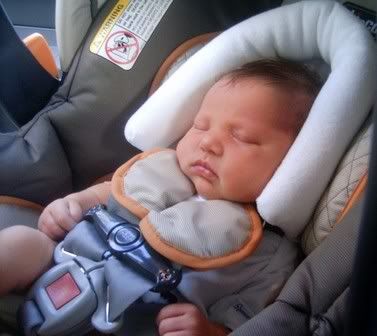 Our new family: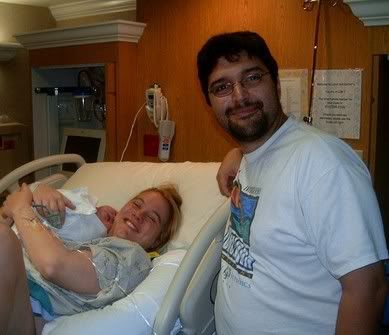 The proud papa...and she is the spitting image of my husband when he was a baby: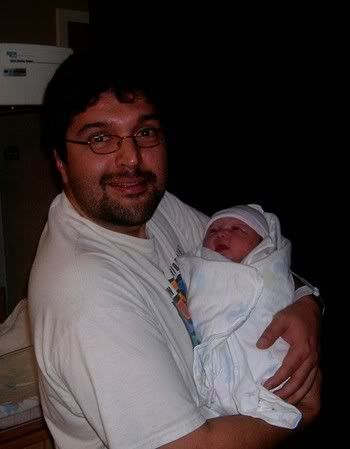 My daughter and I immediately after birth...and who is bawling harder? Can you tell?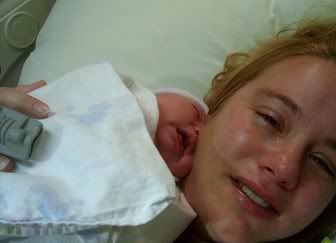 The delivery team! That's our nurse who really got me through the delivery. The doctor just was the catcher:




And, a silly picture taken by my husband of me breast feeding for the scrapbook...I wasn't going to post it, but it's rather PG-rated, so here you go!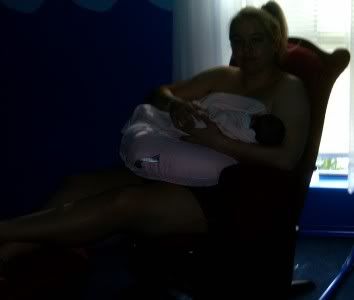 And the dogs checking our the newest addition to the pack!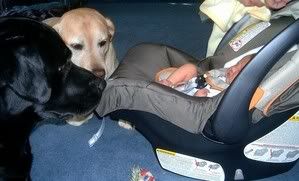 So there you have it! Wish us lots of luck. So far at home, things are going great, especially now that my milk seems to have come in.